General
What does Home Healthcare Shoppe sell?
We offer a wide selection of over 5000 SKUs, ranging from injury and mobility improvement products to bathing and toileting products.
Where is Home Healthcare Shoppe located?
Strictly Online Store.
Ordering & payment
How To Place an Order?
Please Refer to Image below: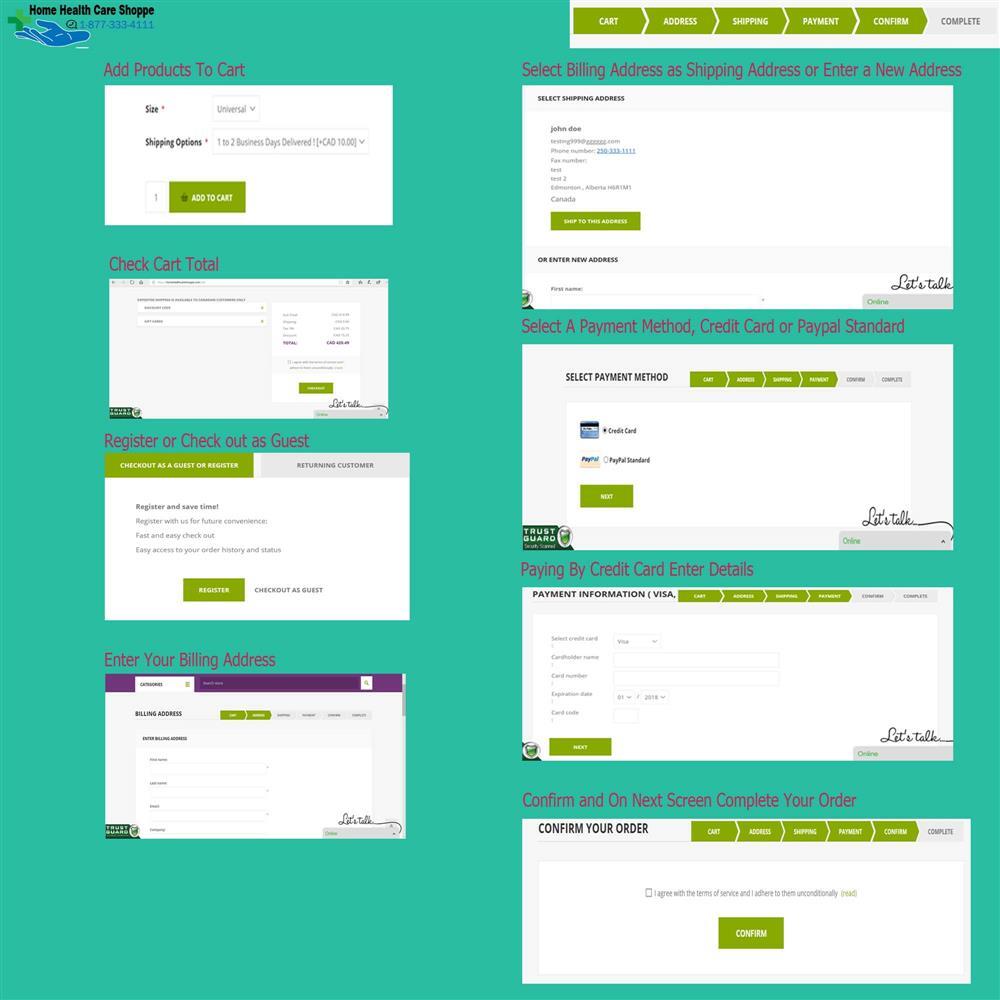 What methods of payment do you accept?
We accept Visa, MasterCard, Amex, and PayPal.
I placed my order – what happens now?
A summary of your purchase will be sent to the email address you provided. Your order will take 1-2 business days to process, and then it will be shipped to you.
How long will it take for my order to process?
Your order will process and ship within 1-2 business days.
How do I cancel my order?
Email us at [email protected] to cancel your order.
How much tax will I pay?
A 5% tax applies to orders shipping within Canada (walkers and bobcats are 
exempt). Orders shipping outside of Canada are not subject to any tax. Pet products are shipped from our USA supplier and extra taxes might be applicable for items received within Canada. Customers are responsible for import duties.
Can I make changes to an order that has already been placed?
Yes, you can email your order changes to [email protected].
The item I want is out of stock, can I backorder it?
Yes, just reach out to us and we can backorder it for you.
Do I need an account to place an order?
An account is not required to place an order – you can check out as a 'guest' if you want.
Where can I find my order history?
Scroll to the bottom of the page, look for 'My Account' and click on 'Orders'. Then, log into your account and you will be taken to your order history. If you do not have an account or have always shopped as a guest, you won't be able to access your order history.
How do I track my order?
Once your order has shipped, you will be sent an email and assigned a tracking number to track your package.
Shipping
See our shipping page.
Returns
See our returns page.
Coupons
Do you offer coupons?
Yes, we offer coupons for online orders. Sometimes they'll pop up on the screen as you shop, or in your inbox as a surprise, so keep your eyes peeled!
How do I use a coupon code on homehealthcareshoppe.com?
In your shopping cart, click on the 'Discount Code' box. Enter the coupon code in the box and hit 'Apply Coupon'. The discount will be reflected in the total.
How does the Health Services Cover cost work?
We provide you an invoice for your order after it has been placed. The same can be shown to your health service insurance for a reimbursement.
** WE RESERVE THE RIGHT TO REFUSE SERVICE TO ANYONE **